29/11/2013
Nick Triggle, BBC news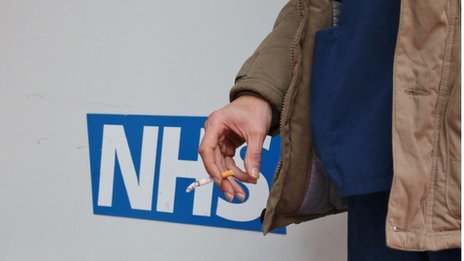 The NHS must stop turning a "blind eye" to smoking and ban it in all hospital grounds in England, according to new guidance.
The National Institute for Health and Care Excellence said it wanted to see smoking shelters scrapped so patients, visitors and staff could not light up.
Staff should also stop helping patients out of their beds to go for a smoke.
And patients who smoke must be identified and offered help to quit, the guidance added.
It said nurses, doctors and other staff could give brief advice and then refer smokers on to NHS stopping smoking services.
Smoking rates are particularly high among mental health patients with one in three smoking, rising to 70% in psychiatric units.
That compares with the one in five among the general population who are smokers.
The guidance, which is voluntary for the NHS to follow, even suggested staff caught smoking should be disciplined.
'Too long'
The National Institute for Health and Care Excellence (NICE) conceded some parts of the NHS had already adopted these approaches, but ...
... said the idea of the guidance was to make sure it became consistent across the health service.
NICE public health director Prof Mike Kelly said the NHS had turned a "blind eye" for too long.
"It has been tolerated by the NHS and it is high time that stopped.
"NHS hospitals and staff have a duty of care to protect the health of people who use or work in their services.
"We need to end the terrible spectacle of people on drips in hospital gowns smoking outside hospital entrances."
In practice, he said, doctors and nurses could provide nicotine replacement therapies and advise patients about counselling to ensure they were not "going up the wall" with nicotine cravings.
He acknowledged that stopping a determined smoker from going outside to light up was "clearly very difficult".
"This is not about imposing some sort of penal regime in which doctors, nurses, administrators spend all their time trying to enforce a series of rules and regulations."
He said it was about a culture shift and removing smoking shelters would help eliminate any subliminal message that it was ok to smoke around a hospital.
Stress relief
Stephen Dalton, of the NHS Confederation, which represents NHS trusts, said the guidance was welcome.
"A total ban on smoking complements the duty of care on healthcare staff and the organisation to protect the health of people in their care and promote healthy behaviour."
Dr John Moore-Gillon, a lung specialist, said there was no doubt that smoking rates fell in environments where it was banned, pointing to smoking bans in pubs, clubs and public buildings.
"And they're actually more likely to give up smoking if they're given this advice when they're in a hospital or other health care setting," he added.
But Simon Clark, of smokers' lobby group Forest, said: "NHS staff have a duty of care to protect people's health, but that doesn't include the right to nag, cajole or bully smokers to quit.
"Tobacco is a legal product and a lot of people smoke to relieve stress.
"It's not only heartless and inhumane to ban patients from smoking outside hospitals and clinics, it's almost impossible to enforce without installing CCTV cameras and employing wardens to monitor the grounds."