10/12/2013
CNBC - Holly Ellyatt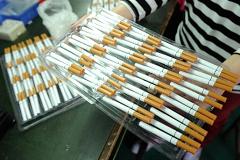 A court ruling to restrict the sale of e-cigarettes in France this week could set a European, if not global precedent and knock the nascent e-cigarette industry off course.
A commercial court in Toulouse ruled on Monday that e-cigarettes (that do not contain tobacco) qualify as tobacco products and should only be sold by registered tobacconists.
French news agency AFP said the court ordered an e-cigarette retailer to stop selling and advertising the products. It argued it was violating the "state monopoly on the sale of tobacco" which states that tobacco products can only be sold at registered outlets in France, where their advertising is also banned.
Erik Bloomquist, senior global tobacco analyst at Berenberg said it was now important to look at how the EU would treat e-cigarettes when it published revisions to its Tobacco Products Directive in 2014.
"This (directive) could lead to greater regulation of the e-cigarette industry, and yes, in terms of regulation and distribution it could put a squeeze on the nascent e-cigarette industry," he said.
He expected an EU directive could put more pressure on smaller players than on the big suppliers like BAT or Imperial Tobacco, however.
"It could in fact be more favorable for the majors [large tobacco companies] because this ruling suggests that the EU could regulate e-cigarettes as tobacco products next year," he said. That would mean producers could only distribute their products through regulated tobacconists, meaning business as usual for the larger firms.
Last month, European Union (EU) proposals reported in the British media appeared to show growing concerns among EU officials over the as yet loosely regulated e-cigarette industry with officials even proposing to ban and remove all e-cigarettes from shop shelves.
According to details of a confidential European document reported by the U.K.'s Telegraph newspaper, officials in Brussels saw a "risk that electronic cigarettes can develop into a gateway to normal cigarettes."
Concerns have been steadily growing over the boom in the e-cigarette industry since the products have gained in popularity over the last five years.
Although it is still far smaller than the real tobacco industry, industry analysis firm Euromonitor International estimates that the e-cigarette industry is worth in excess of $2 billion globally (the same size as the global small cigars market).
Big tobacco companies have been quick to capitalize on the smokeless product that markets itself as a "healthy" alternative to real cigarettes too. British American Tobacco (BAT) launched its mainstream e-cigarette, Vype, in the U.K. in July and Marlboro maker Philip Morris plans to enter the market in 2014.
The EU does not regulate e-cigarettes in the same way it regulates cigarettes and cigars as they do not contain tobacco. But the revised EU rules could change that. The EU will decide in which regulatory categories e-cigarettes will be placed; they currently fall between the regulatory boundaries relating to tobacco, medicinal and consumer lifestyle products.
Responding to the ruling, a spokesman for British American Tobacco told CNBC that the industry welcomed regulation of e-cigarettes and other inhaled nicotine products " to ensure consumer safety and product quality, as well as the appropriate level of innovation, marketing and distribution freedoms required to enable this important category to grow."
BAT spokesman Will Hill also noted that the ruling was only made in a local court and was not a national ruling. "It is important consumers do not face legal restrictions on where they can use these products," he said.
E-cigarettes have certainly proved an alluring draw for smokers literally who have been put out in the cold by European smoking bans in bars and restaurants. Euromonitor International reported that in 2011 the top 3 e-cigarette markets were the U.S., Russia and Germany which together accounted for 60 percent of the global value of sales.